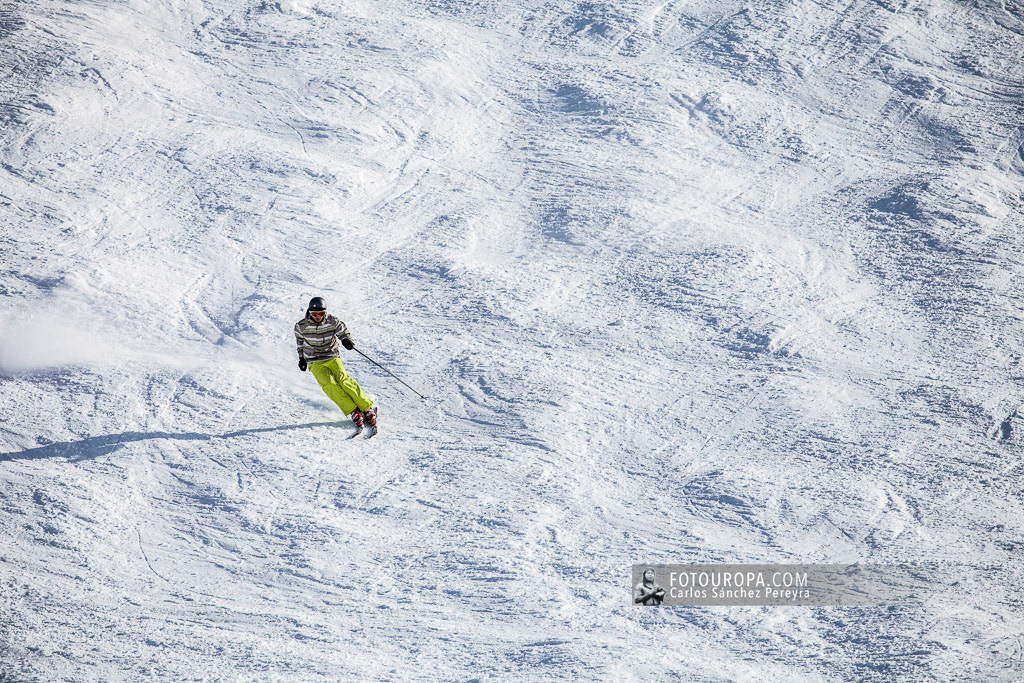 Innsbruck: between adventure and history
It's a city that lives sport's art as long as possible, but has it clear that she couldn't be herself if doesn't include the adventure of history. Innsbruck is a bridge between two ways of living.
You must climb with an armed equipment. Helmet, special clothing, lenses and skis may not suggest much of what's underneath it all. But the smile escaping from the bottom of those sports items let us know that there is an enthusiastic person anxious to climb Alps' highest point and then slide it down. When climbing a mountain you must feign patience, although it's true that modern funiculars and cableways effortlessly climb inclinations a couple thousand of meters high, where the wind and the cold try vainly to halt the adventure. However, they face a tough competition: the landscapes, the ski slopes and a contagious emotion. Next moment stops between a heavy sigh and an adventurous soul taking the operations' command a few minutes after looking out the depths of the valley, while the view is so fortunate to perceive first hand the audacity of living in an active postcard.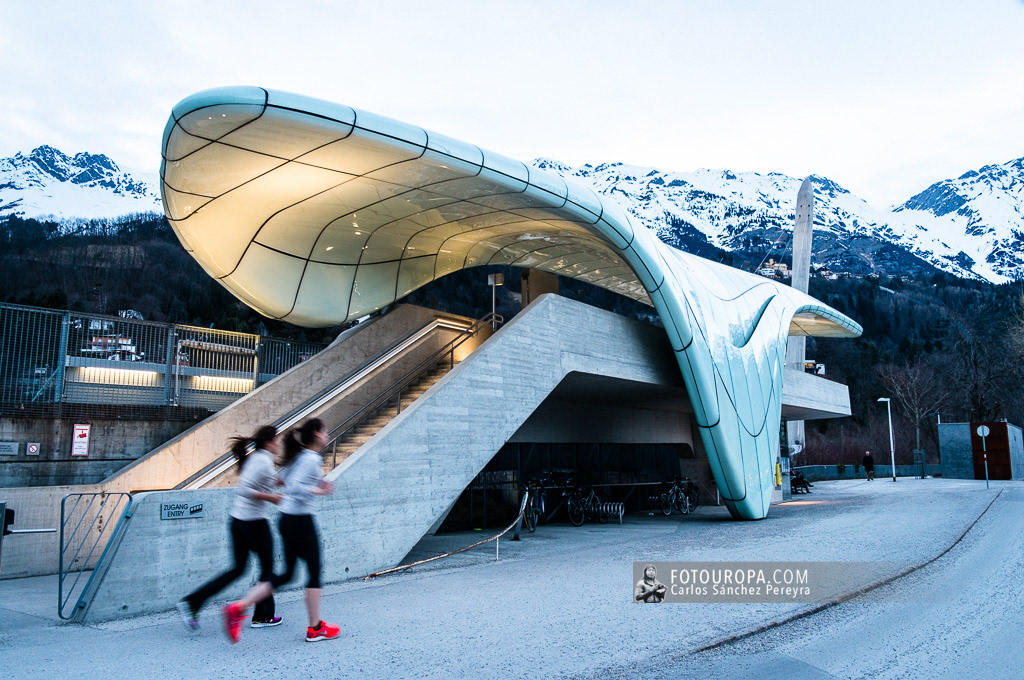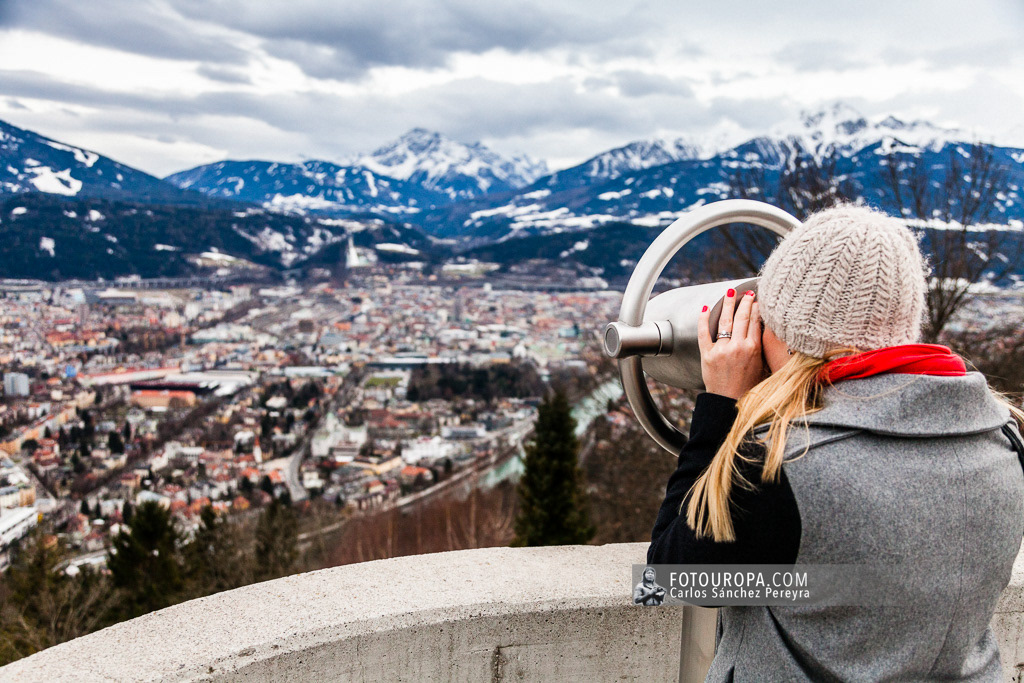 Zaha always in the heights
I must follow several previous steps to be able to play with the snow. First, get to Innsbruck, an issue easily resolved by flights coming from major European cities, or by rail. Both options ensure views to whole Alpine landscape surrounding Tyrolean town. Then I have to choose a hotel, a subject that will not cause any headache as city's size is manageable and hotels' quality is assured because of their strong conviction that one is better than another. For those seeking for a central hotel, close to the railway station, they better go to one of Innsbruck's classics: the Grand Hotel Europa. I got room 409, which overlooks the mountains and railway station, and on the ground floor is its famous restaurant.
Next step is often complicated. Skis want to be active but I'm seduced by the history of the town with its long Habsburg's moment, and my street soul is anxious to find everything that wasn't looking for, but wanted to know. To avoid pleasing one but leaving unhappy the other two possibilities, I choose to be dialectical and select Zaha Hadid. To find her, simply go to the Congress edifice, just beside the Imperial Palace, and see one of the first pieces of glass that architect Hadid proposed, apparently created by the friction of the wind and snow, or at least that is what we translate when facing a building constructed with creation's freedom that Zaha Hadid usually allows herself. It's the Hungerburgbahn (funicular initial station), but symbolic function overtakes the real one, and in the range between one moment and the other, is where Innsbruck loves to be: it is a mountain, but also a vibrant city.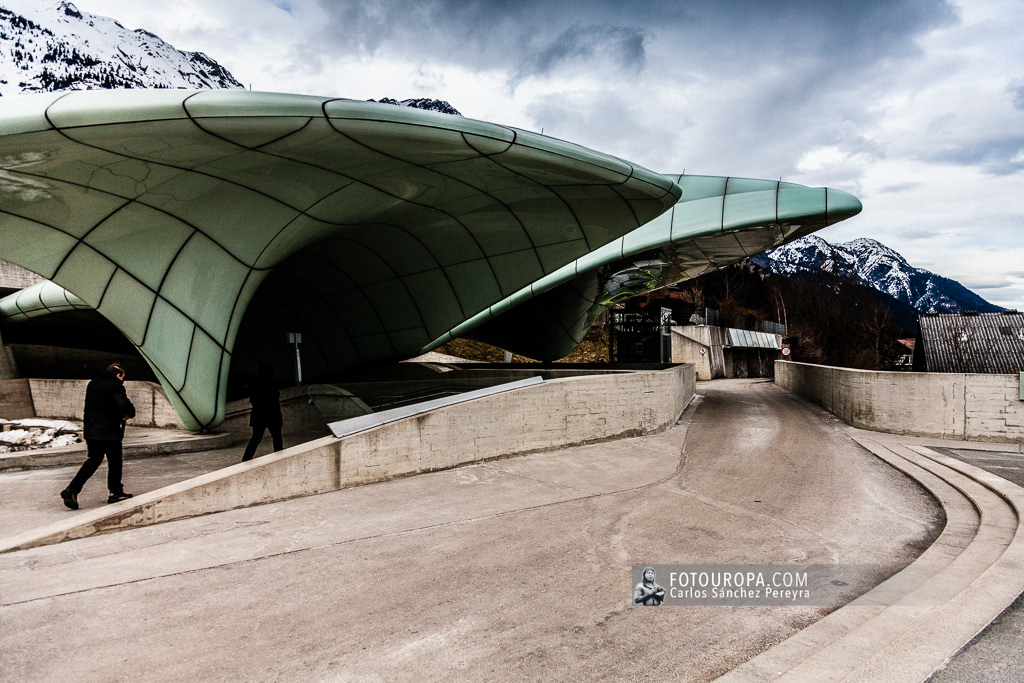 After traveling four funicular's stations, designed all of them by architect Hadid, the city center slouch soon and in less than 20 minutes, with Innsbrucker Nordkettenbahnen cableway's help, I'm at a height of 2256 meters, with views that have the intention to fly to the entire city and face  the Alps. Here, it's normal to observe skiers taking track from thousands of meters high, in a place called Hafelekar. Some people call them experienced; others, foolish. Anyway, the cadence with which they slide Karrine's ski slope, with an inclination of 70 degrees, suggests they do this in a pleasant way, like something normal in their life. Instead, sanity leads many of us to enjoy Innsbruck's views while having lunch in Alpenlounge Seegrube restaurant, a place you won't leave without having tasted Gröstl mit Spiegelei (Stew with potatoes) and Apfelstrudel (Apple Strudel). You may also take a sunbathe or practice snowboard and freestyle in Nitro Skylinepark, a space that fuses nature, adventure and youth. I let myself be guided by my nocturnal spirit and wait until tracks are artificially illuminated and all moves at the pace of a couple thousand watts of good music. However, those who need more rhythm and want to dance without skis, may visit, in the same Skylinepark, an igloo that has forgotten the tasks its lineage used to do before being transformed into a lounge, where zero degrees are present in the atmosphere, but rarely in the mood.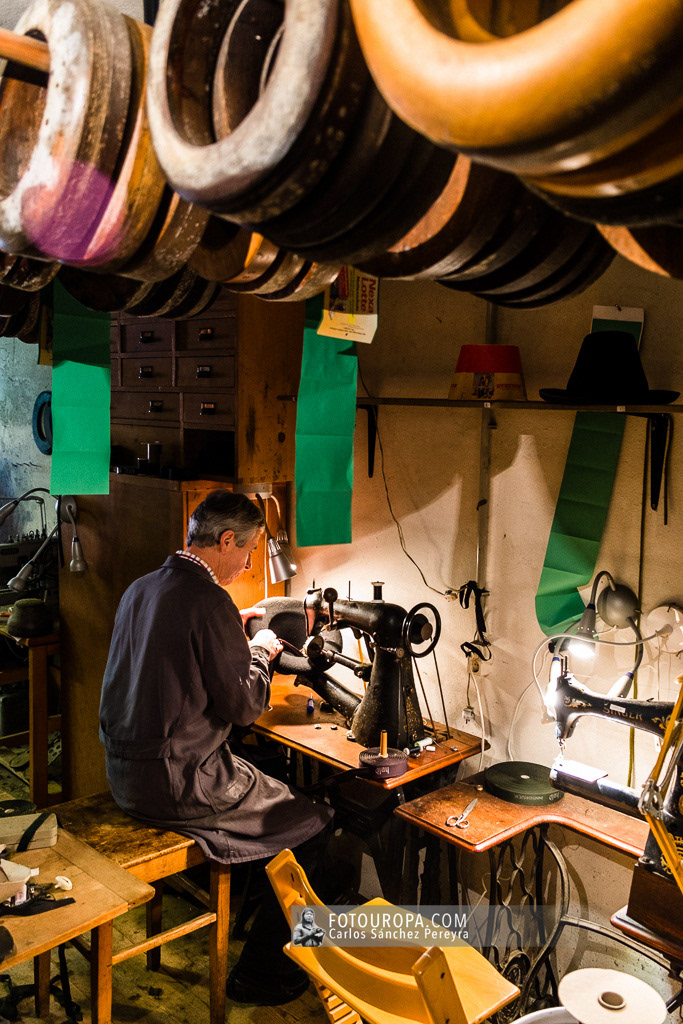 Two feet
Everything smells like skiing around here. This city has hosted three Olympic Games (1964, 1976 and 2012) and counts on the most complete tracks and winter activities' repertoire of all Europe. I'm wearing today normal shoes and walking the street: no helmet, ski lenses or some other object meaning sport. I carry a map revealing me as a tourist, but soon I will change it by the sense of sensations, the same that will take me soon to a micro world dedicated to sell regional sausages. It's called Sperkschwemme and the person attending it occupies almost store's two square meters of space. Certainly, this is one of Innsbruck's oldest business. The perceptions' compass combined with luck lead me to Held, a corner dedicated to liven up the most traditional Austrian hats, which bear the afflicted but also proud emblem of being the last workshop of the kind throughout the country. A hat may cost 800 euros, which indicates it isn't a place to be looking for souvenirs, but the moment of witnessing the way hats are born in an elderly workshop will remain in my memory as any other tourist invention may ever achieve.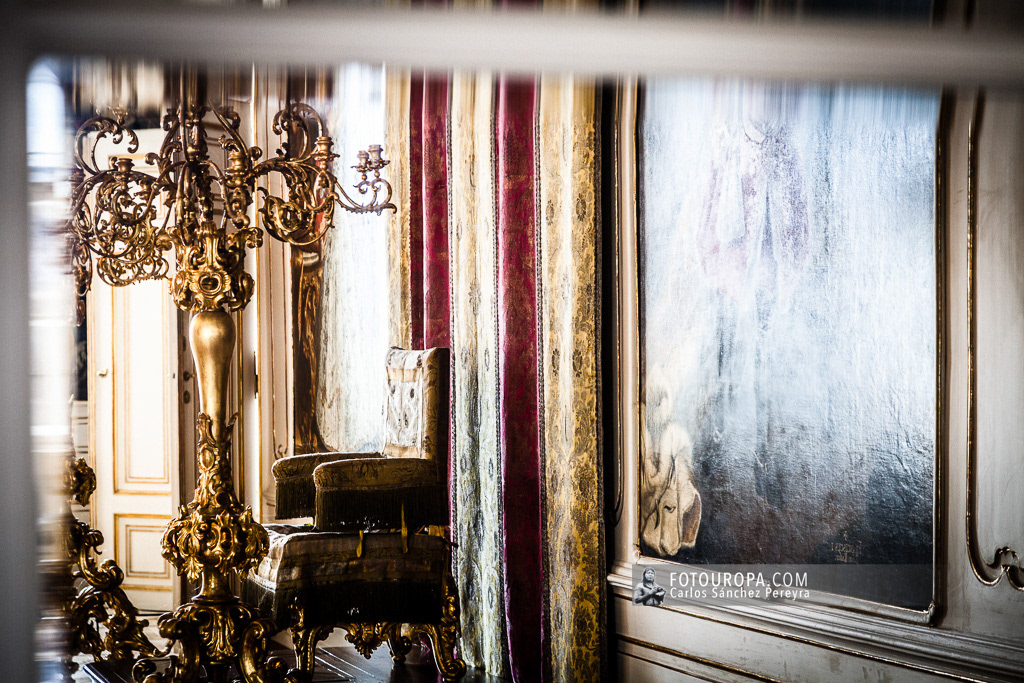 Old Innsbruck's roads flow in some moment of Habsburgs' life. Maximilian I, Roman-Germanic Emperor, one of the most important figures in Europe's history, also was it for this city. At the end of fifteenth century he began to give form to Innsbruck Imperial Palace, which his family didn't cease to pamper several centuries later. Here, skiers do not circumvent geographical features but a rich collection of antique furniture and a series of paintings that give face to one of the empires who set the course of the continent for centuries. But where history and emotion certainly converge is at the cenotaph of Maximilian I, located in the Court's church. Twenty-eight sculptures make me feel small in size and social importance. They are European royalty figures close to the emperor, made under his own orders, with the clear intention of surrounding his empty tomb, a work that more than trying to save his remains, intended to be world's heritage.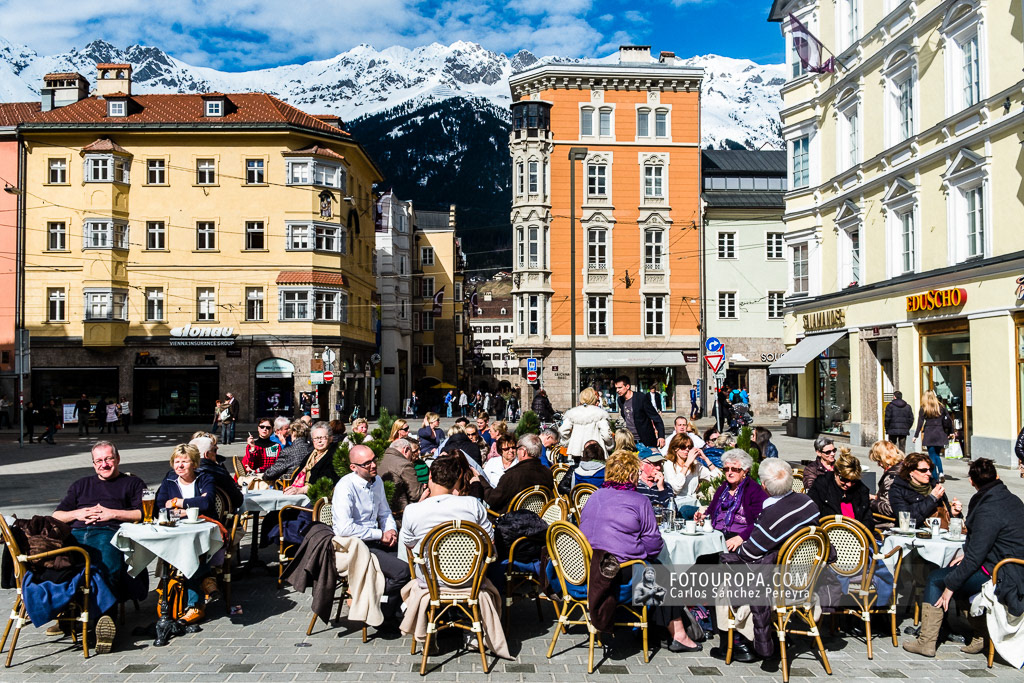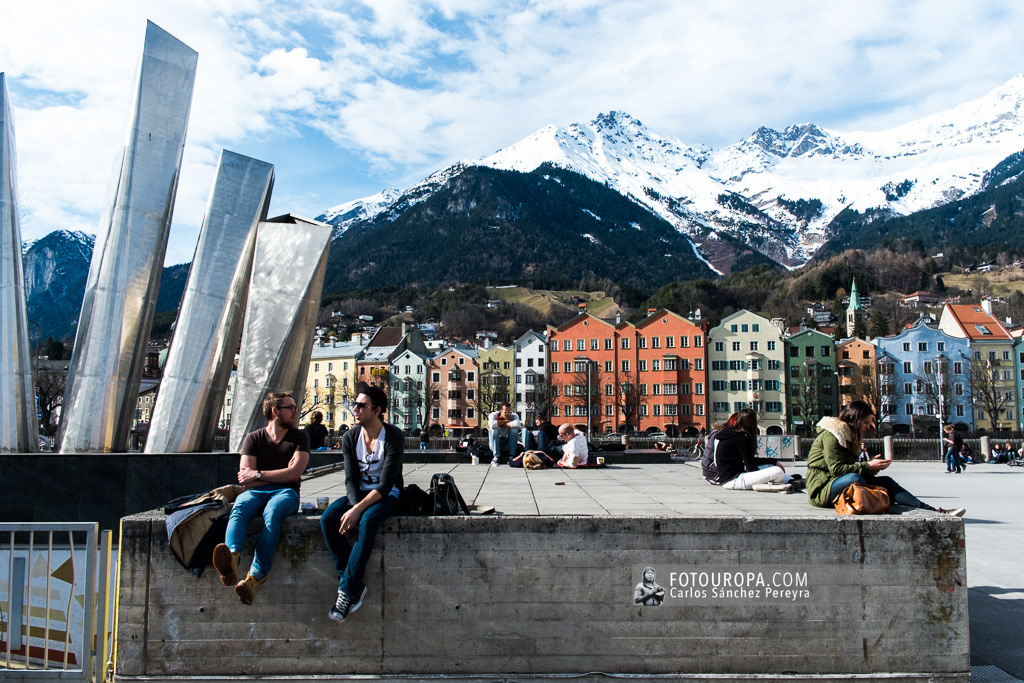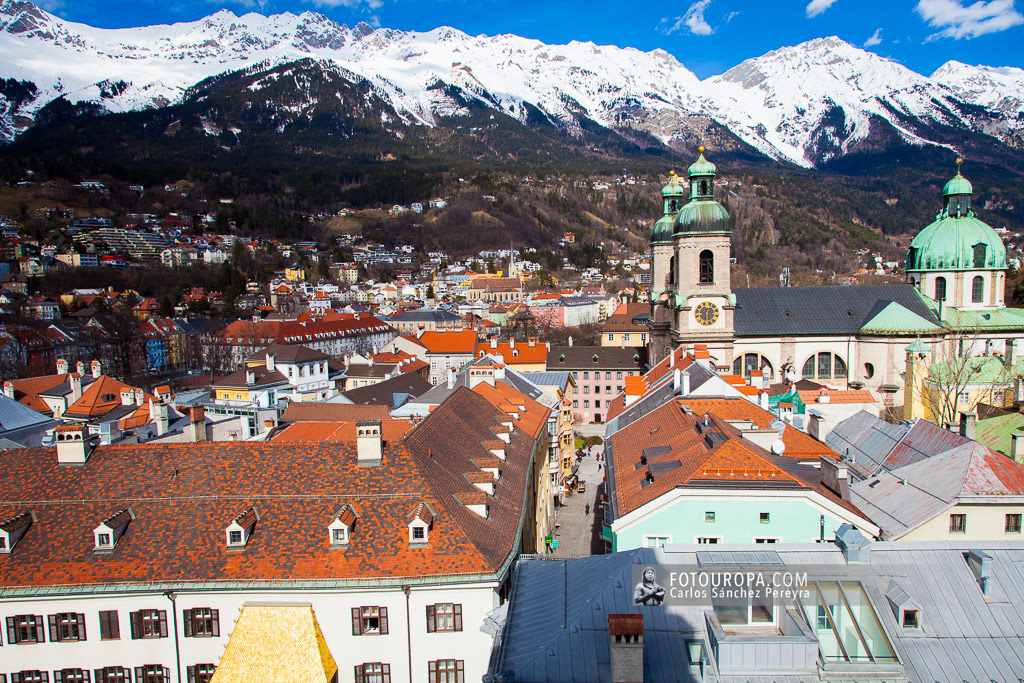 From that imperial world I'm transported through medieval streets to a small universe which focuses all its magic in the pomace brandy and other spirits, and where its owner, Herby, wants me to taste them all. Before starting to feel dizzy I manage to identify that the local is called Culinarium, a skilled movement due to the fact that I want to return to this gourmet corner, which functions as a small bar but it's rather a store, although Herby considers it a great meeting point. Nor should I go too far with the pomace brandy because I would like to walk through one of town's classic places: the Marie-Theressien Street. It functions as a central axis of the city where all tourists and many of the 30,000 students living in Innsbruck choose to walk around and shop. The street originates in the Arc of Triumph (built in honour of Leopold II wedding) and end at the point where everyone can not help but take a picture: The Golden Roof, a building integrating the Gothic and Baroque, constructed also by Maximilian I in his eagerness to give importance to Tyrol's corner.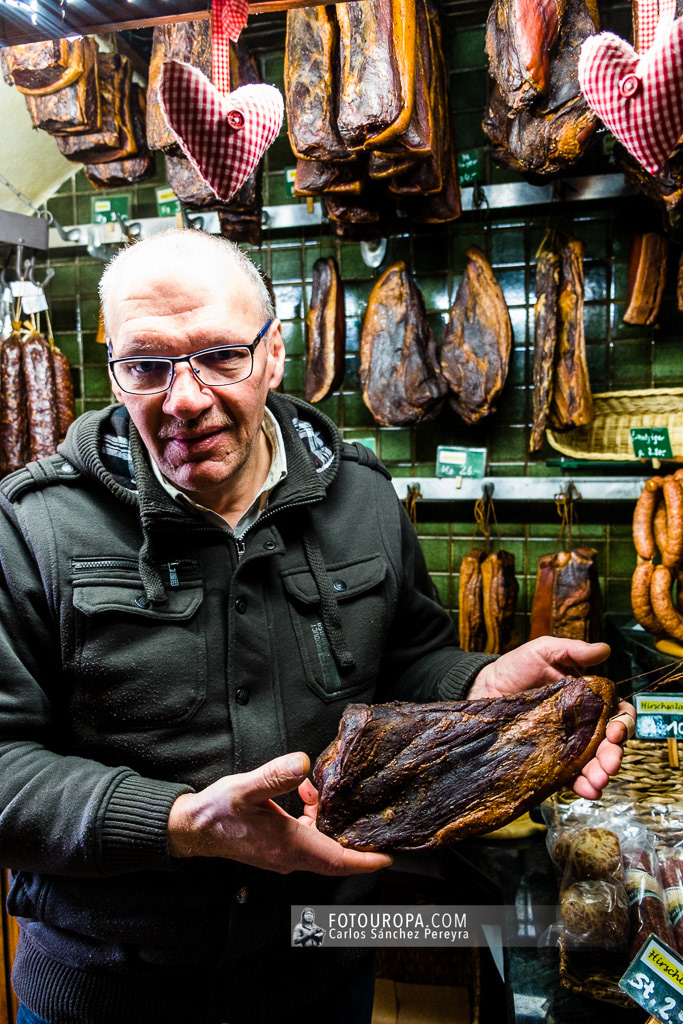 Once the medieval maze makes us loosing any orientation, the ideal plan is to relocate us from the top of the City Tower, one of medieval surveillance constructions that always have the quality of offering the best views. However, right there I met a modern competitor: the Lichtblick restaurant, located in the top of Rathaus-Gallerien shopping center,  designed by architect Dominique Perrault. The restaurant has not been able to stop being fashionable during its ten years of existence. On the one hand, my palate testifies it, and my view on the other, surrounded by the mountains that make up Inn's Valley, where the river with the same name lies, the one that in medieval times was crossed by a bridge built by a small village in order to continue the way through Tyrol's area. This brought money to the region, and the Inn's bridge -- from where Innsbruck's name is generated--, helped the town to become a city. A plus of this surveillance post is that when finishing lunch you don't have to leave the heights because at one side is the 360 Degrees Bar. Just like that, complete city views although it's name doesn't clarify that the ambience is so relaxed that spending a whole afternoon there is very possible.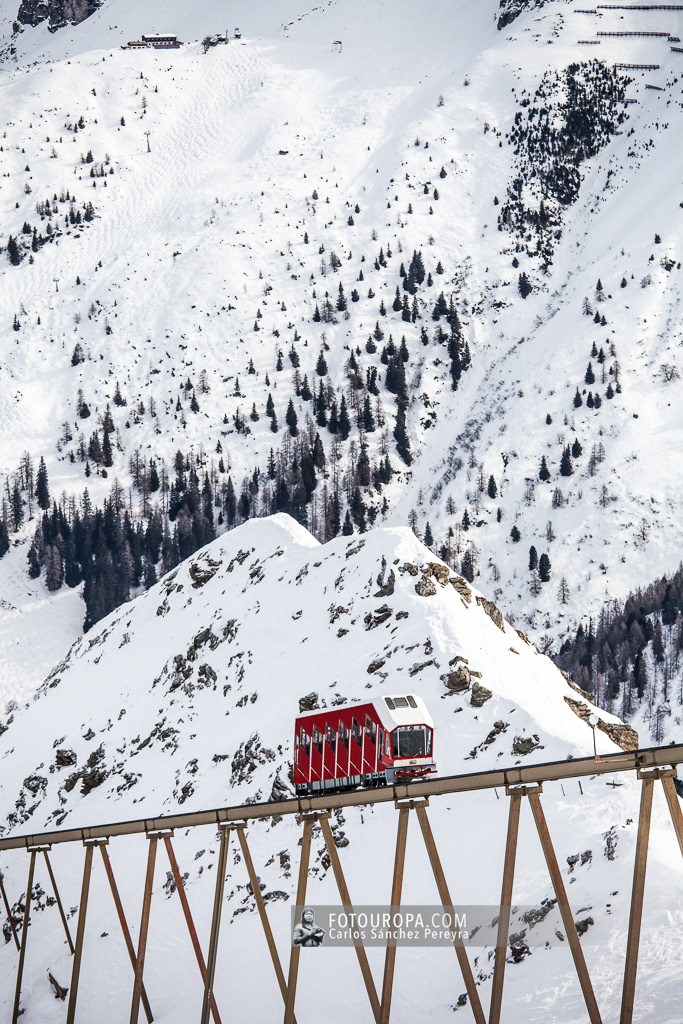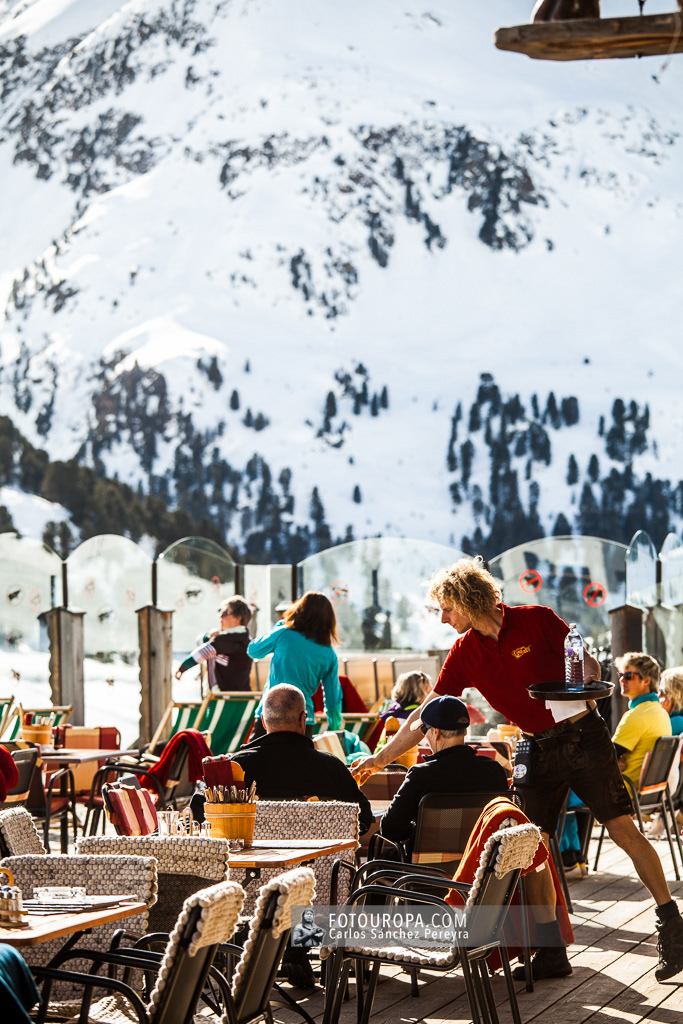 Playing in the landscape
Now, all ski equipment I brought isn't planning to stay at the hotel the whole time. So I get on a free ski-bus to go to one of the nine ski stations surrounding the Austrian Alps' city. In less than 30 minutes I'm on board of the Olympia Express funicular, going up to the highest Olympic station called Axamer Lizum. At 2343 meters it stops at panoramic Hoadl Haus restaurant, which has the ability of offering first class dishes accompanied by the snowy mountains which look like centerpieces. Then comes the time to alternate tracks with small Austrian children who do not exceed a decade of life, or many others who accumulate up to seven of them.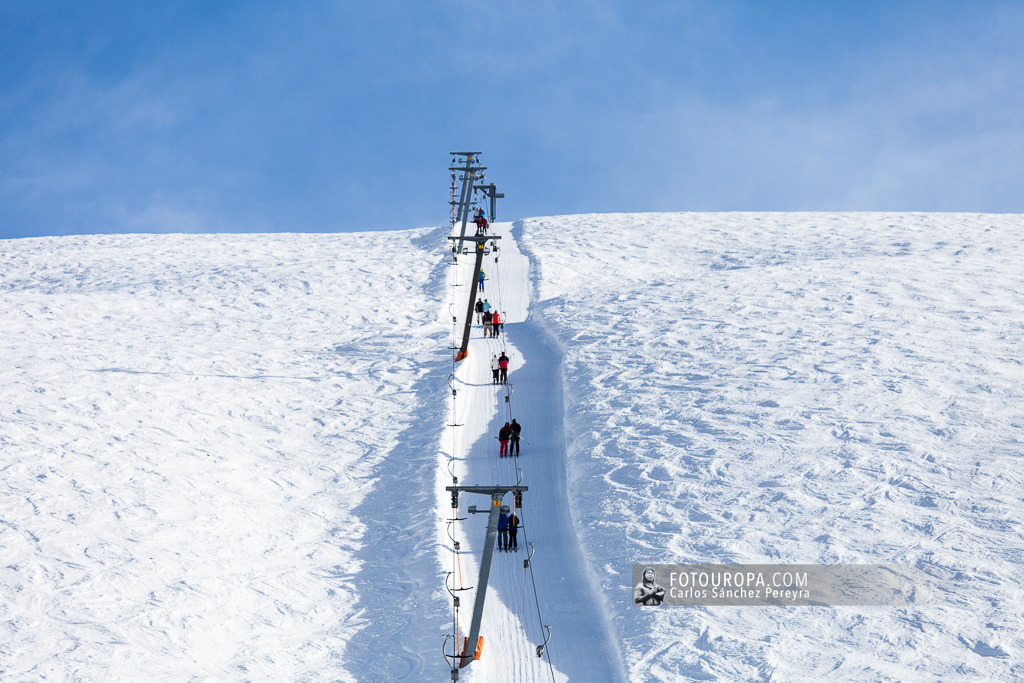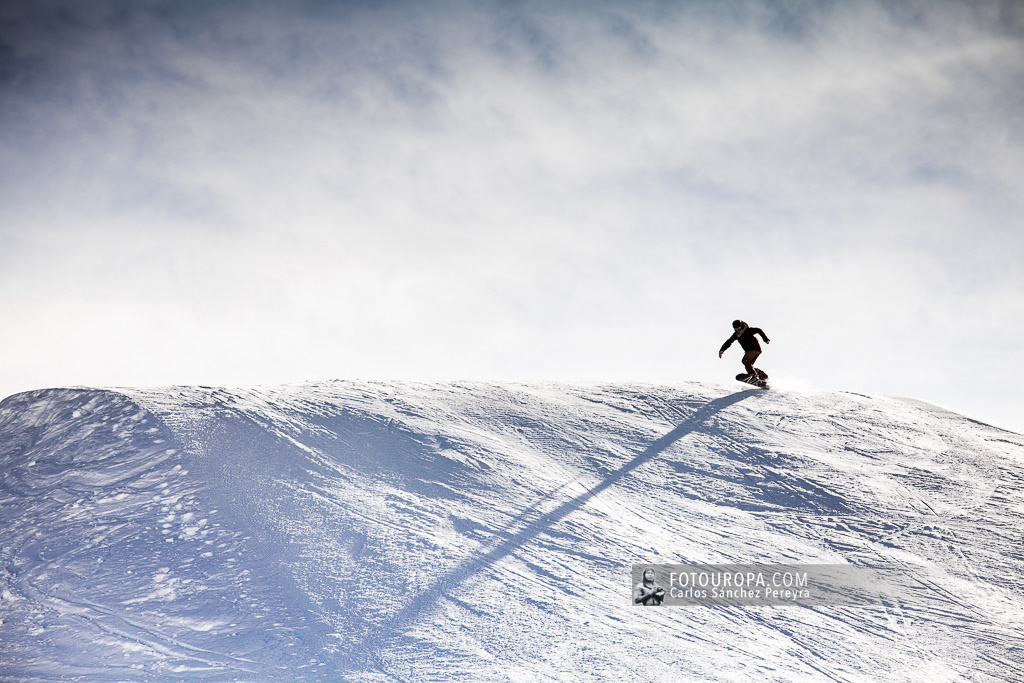 Austrian people, especially the Tyrolese, integrate snow as a vertebral part of their life. Fortunately, as they live together several months of the year. They know how to infect naturalness to people visiting their mountains. It isn't a matter of luxury but of sport, health and sharing time with nature. "It's quality of life, not luxurious life", tells me a man 60 years old who climbs the mountains without funicular's aid and jumps later on skis. I confirm that  phrase when seeing a 4 years old child skiing in Kühtai's tracks to the rhythm of his own music, or when being part of a wok's team (Bobsleighing) along with 3 other children and their mother, all going down to more than 110 km per hour over 1270 meters high, uploaded on a device that I had seen on TV and thought it was suitable only for crazy people. But where everyone accept certain perversion is when talking about persons dedicated to fly and land again and again, driven by the idea of floating forever above the landscape. These are athletes launching themselves from the ski-jump, although to be honest, when I saw the ramp –designed by architect Zaha Hadid— I had the intention of slipping myself in the landscape, architecture and sport's moment. But impossible! Bergisel's track only receives competitions during the Tournament of the 4 Trampolines, held on the first days of the year and only reserved for professionals, of course.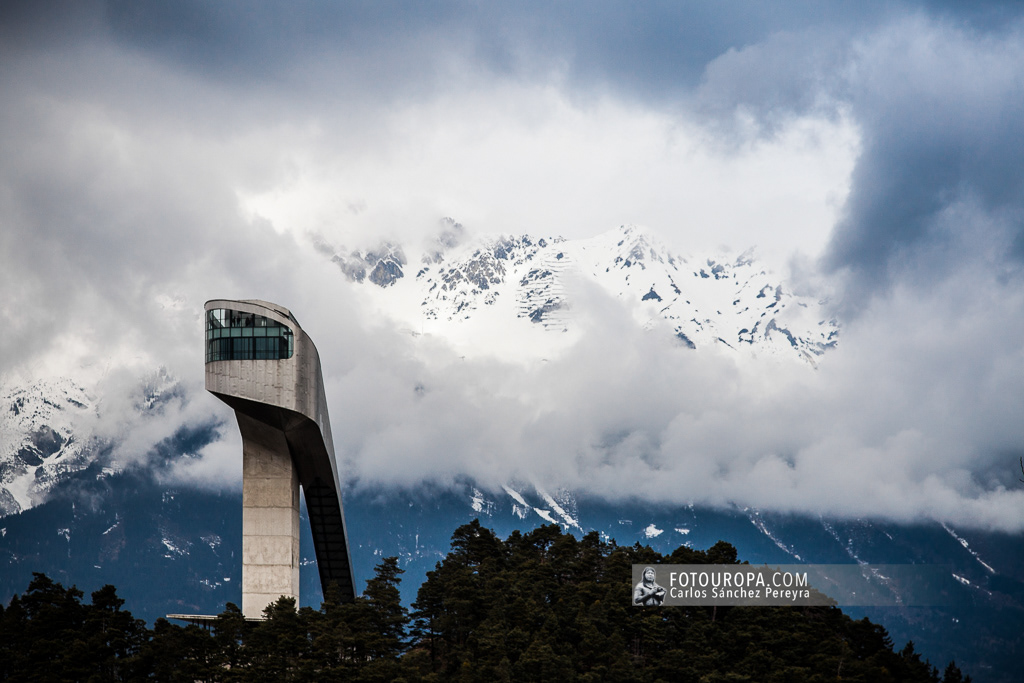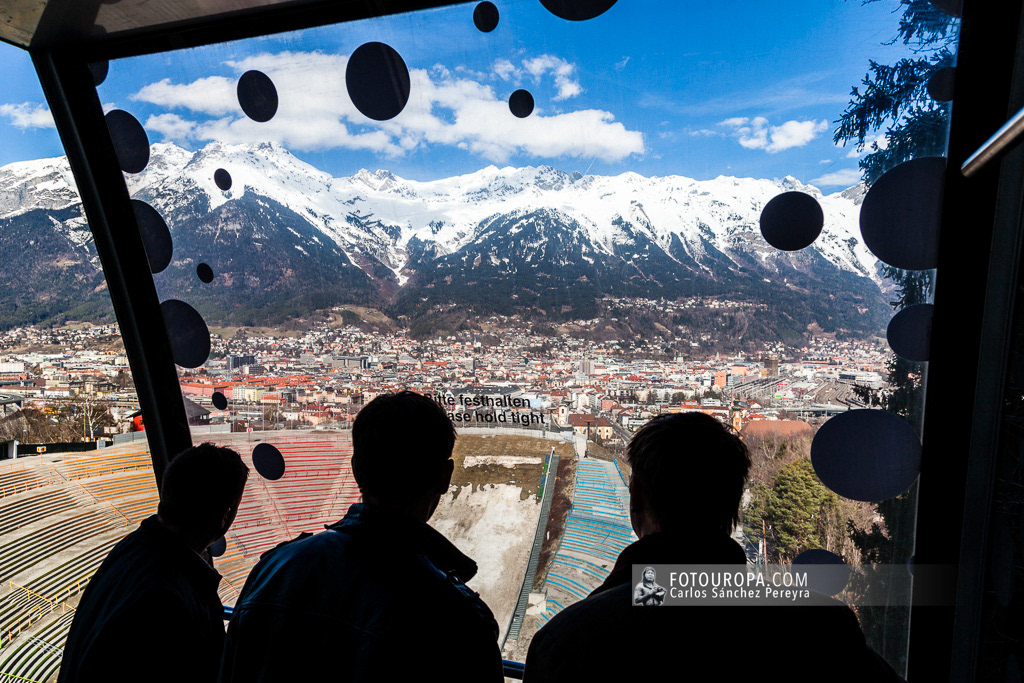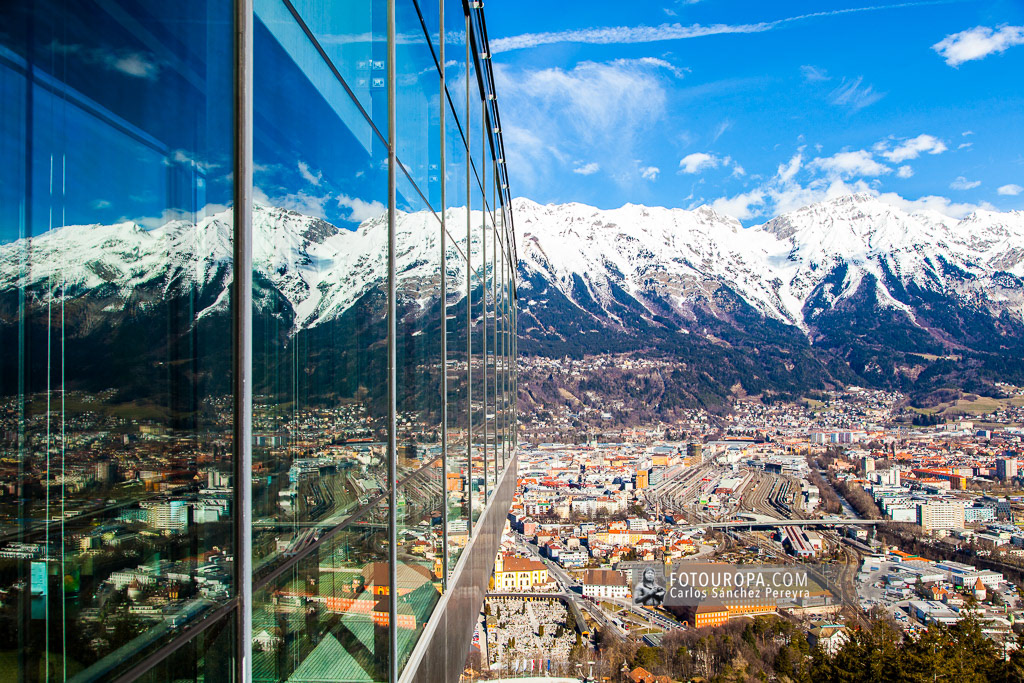 However, Innsbruck's snow world -- called also Olympia Skiworld-- doesn't stop at the 300 km of ski slopes but forms a range of options including seven snowparks, several kilometers to practice cross-country ski, plus full speed wok travels. Despite the long winter options menu, I had the opportunity to know village's rural life surrounding Innsbruck city. They are small paradises preserving Tyrol's life as a great treasure, but attracted to modern life as well: old farms are still operating but coexist peacefully with those converted into modern apartments. And in Wilder Mann --a genuine village tavern--, between traditional dishes (Rucolaschaumsuppe and Tiroler Schultzkrapfen) I remember Hadid and Perrault's modern strokes sharing space with the hat's shop and the pomace brandy --still made with the patience of time—, and realize that this Austrian corner not only has it clear that history and sport may share same place, but also counts on that vision uniting vanguard and tradition.